Shopping Trolley Maintenance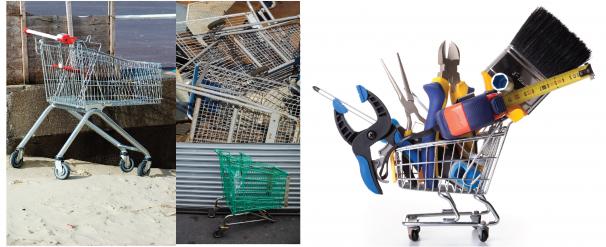 Australian Retail Products have a network of maintenance contractors around the country who are ready, willing and able to maintain your trolley fleet at an affordable price.

All our quality parts are tested and manufactured to Australian conditions and will provide you with many years of continued service in the harsh Australian climate.

Contact Australian Retail Products today on 1300 551 630 for an obligation FREE quote on your shopping trolley maintenance requirements.

Benefits of a Preventitive Maintenance Program for your Shopping Trolleys
Safety
Brand Image & Customer perception
Extended Life of Shopping Trolley
Prevention against Liability
Cost & Time savings
Peace of Mind & Service Reports

Safety
Customer and Staff safety is the number 1 priority for all retailers. Bent shopping trolleys are unstable and can tip over, often with a Child on board. Broken or missing child restraints increase the risk of injury as do sharp broken basket wires. Travelator wheels and brake assemblies require regular maintenance to ensure proper operation on travelators.

Brand Image & Perception
Customers are paying closer attention to the condition and functionality of the shopping trolleys.
One of the main customer complaints is that the trolley is difficult to manoeuvre. Eliminating this problem  dissolves any frustration felt by the customer, making for a more pleasant shopping experience which increases customer spend, develops loyalty and reduces customer complaints.

Extend the life of the Shopping Trolley
Preventative maintenance is critical to getting extended life out of your valuable asset.
Our preventative maintenance programmes will ensure that the your fleet is in service when needed most, especially during busy shopping periods such as weekends, catalogue days, Christmas and Easter.
Regular inspection and lubrication of moving parts will prolong the life of components.

Prevention Against Liability
One successful liability claim can cost more than the Company's entire maintenance program. Regular maintenance  to your trolleys will fix any potential hazard such as sharp protruding wires, bent or misaligned frames, loosely fitted baby capsules, broken child restraints and worn travelator brakes.

Cost & Time Savings
A Preventative Maintenance Programme will save the retailer time and money by reducing man hours needed to manage and administer expensive call outs.  Regular low cost scheduled visits to each store will pick up on any potential issues before they become an emergency situation. The involvement of  Store Managers, Operation Managers, O H & S Managers and Maintenance Coordinators can be avoided.

Peace Of Mind & Service Reports
With a Preventative  Maintenance Program, Store Managers will have 1 less operating issue to worry about. An experienced Technician will maintain their Trolley fleet to ensure it will operate to the customer's expectations.  Detailed service reports, including  work completed, fleet size, condition reports, issues and recommendations will be kept on behalf of the store and submitted on a quarterly basis.